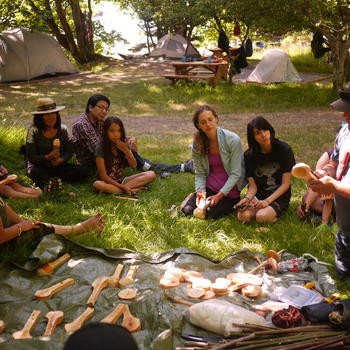 "The creator says that the eagle stands for strength and dignity. When we see something in the physical world, we also see something in the spiritual world. Maybe we see strength and dignity from all the youth leaders coming here together this weekend. This is a powerful statement." – Lilian Underwood, Elder
The International Institute for Child Rights and Development's holistic approach to issues affecting children is grounded in cultural wisdom from Canada's Indigenous peoples.
The Journey, a four-day youth leadership course hosted at a campsite on Pender Island, British Columbia, embeds a number of Aboriginal practices into the programming. The course is focused on self-reflection, cultivating mentorship skills, applying culturally grounded approaches, and learning about tools to engage youth. The course was facilitated by Dr. Philip Cook, Dr. Julian Norris, Michele Cook and the Elder/Sulalewh in residence William White, Snuneymuxw in June 2014.
"Indigenous practices are all around us. Yet, we are not always aware of them," says Hannah Clifford, participant in the Child Protection in Development program. "Being on the land created a special connection. Practices like sitting in a circle, involving different generations, and using humour are all important to Aboriginal ways of life."
More than 15 youth leaders from across Canada, thanks to support from the Counselling Foundation of Canada and the Ministry of Aboriginal Relations and Reconciliation, participated in activities such as:
Traditional carving
Indigenous games and facilitation techniques
Nature walks
Stories and prayers
"Making connections through culture is so important," reflects Vince Equiro. "Youth in my community look at themselves through Facebook and the big cities close to us. They often associate culture with the problems in my community. The games we are learning through this course will help us to work with youth to show them how culture can be cool."
Activities are also encouraging participants to explore their own culture. "I rediscovered my passion for carving," says Cheylene Moon. "I will no longer just be peeling potatoes." Several participants are seeking out Elders from their own communities to harness their craft-building skills.
"Our organization is continually shaped by Indigenous culture and food, the spirit world, communities and our connection to the land," says Philip Cook, Executive Director. "IICRD's principles, pathways, practices and our logo itself are influenced by Indigenous ways of knowing. We bring this to the centre through programs like the Child Protection in Development. There is magic in bringing people together. We support the container to allow journeys to become organic."