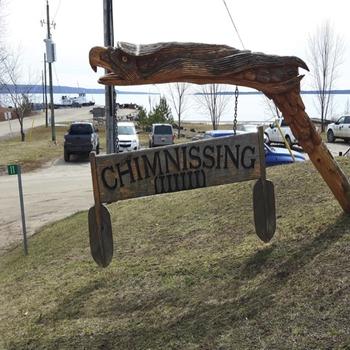 YouLEAD Coordinators Sarah Sandy (Ontario) and Sabrina Bonfonti (BC) teamed up with Beausoleil First Nation (BFN) Education and the Kognaadaa Waa Niigaanzijig program, to facilitate community conversations on education planning for Chimnissing, Ontario. This three-day trip in April 2017 put YouLEAD training and skills into practice through the delivery of a World Cafe while supporting the design, hosting and gathering feedback from teachers, community members, youth and young children with the Education Department.
Working closely with the Beausoleil First Nations Education Director and elementary school teachers who received the Art of Hosting training supported through the Education Department and the Kognaadaa Waa Niigaanzijig Program, the BFN Education department wanted to ask community members: How can the Chimnissing's Education Department SOAR?
S - What are the greatest strengths currently?
O - What new opportunities (e.g. programs, services, processes) would be helpful?
A - What dream should we aspire to achieve?
R - What results will we see / hear / feel if we're on track with our goals?
Through a mix of drop-in and focused conversation time, participants engaged in a variety of tools including a:
History wall: A timeline of colonization including national and some locally specific facts as well as a table of former Band Chiefs

Roundtable discussions: Focused, small group conversations using a talking stick to encourage active listening

World Café: Rounds of rotating group conversations to hone in on 'dreams'
"We were fresh from the YouLEAD Art of Hosting training where several Chimnissing elementary school teachers participated," Sabrina noted. "It was exciting that we had enough people who understood World Café to be able to quickly select the tool and put it into action with both purpose and skill."
Several outcomes emerged from the meetings including potential 1-day professional development training sessions for teachers as well as YouLEAD certificate courses hosted on Christian Island.
"It was helpful to foster more relationship and trust building between IICRD and the Beausoleil First Nation community members, including the Education Department and Elementary School staff," highlights Sarah. "I appreciated additional IICRD support to help facilitate tools and to integrate certificate course learning at the community level."
Learn more about these community sessions in this debrief report. Visit YouLEAD for more information about upcoming courses in Ontario.
YouLEAD encourages young people and practitioners, especially Indigenous youth, to become leaders that question how they think, learn, frame, and lead in their work to support the well-being of children and youth and their families and communities. The program is offered in BC and Ontario.