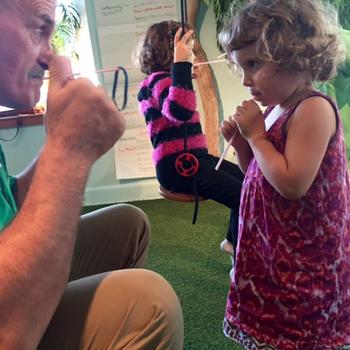 Learning about child rights empowers children and adults to bring about change in their immediate environment – whether at the kitchen table, in classrooms, or at community playgrounds – to ensure that the rights of all children are fully realized.
To celebrate child rights education in Canada, Child Thrive, an initiative of the International Institute for Child Rights and Development, hosted three workshops in Victoria, British Columbia. Held in November 2016, these community-based workshops featured puppets, stories, games, postcards and group discussions with 52 participants.
"We need to breathe life into the UN Convention on the Rights of the Child. One way to do this is to play with child rights," says IICRD's Elaina Mack. "While IICRD works around the world in many capacities, it is important for us to share our own experiences with the kids, neighbours and teachers in our 'own backyard'."
The Playmakers Workshop facilitated by IICRD's Micheal Montgomery focused on reintroducing parents and children to the disappearing art of free play and active games. With balloons, straws, bubbles, and skipping rope, participants explored the importance of play and its role within childhood. Parents compared stories from their own childhoods including how play is different now and why. The workshop was hosted in partnership with The Cottage, a family-focused eatery, as part of a community-education workshop series. Learn more about Micheal's involvement in the Playground Project.
"Childhood is so different compared to when I grew up. I played endless games outside with friends where there was no adult supervision. After this workshop, I am inspired to bring a skipping rope to my daughter's school to start changing the playground culture between kids and parents." - Parent, Playmakers workshop
Children from two Grade 1 classes (ages 5-7) learned about their rights through workshops in Victoria's Oaklands Elementary School and Sir James Douglas Elementary School. IICRD's Kathleen Manion (Associate) and Elaina Mack facilitated the workshops with rotating hands-on activities to allow children to explore child rights. Activities focused on understanding the differences between 'wants and needs' and matching rights with responsibilities. Children also expressed what child rights means to them through drawing and writing on a postcard, which was mailed to the Prime Minister of Canada (Source: Equitas).
"I learned about the difference between what I 'need' to grow, and what I really just 'want'. My favourite thing was the fishing game for rights and responsibilities." – Child, 6 years old, Oaklands Elementary School
"You both did such a lovely job of engaging, teaching and inspiring the children with such great activities! Thank you so much for sharing your time and expertise with us." Teacher, Grade 1 teacher, Victoria
To root rights in our own backyard, IICRD continues to collaborate with diverse partners through innovative community-education programs to help children and their families to thrive. For more information, contact Elaina Mack, Engagement and Evaluation Director.
Photos:
IICRD's Micheal Montgomery with Elodie (age 3); IICRD's Kathleen Manion and Elaina Mack with Rhea (age 6)
Postcards:
Fiala (age 6) and Jack (age 6), both from Oaklands Elementary School as well as Janou (age 6), Sir James Douglas Elementary School