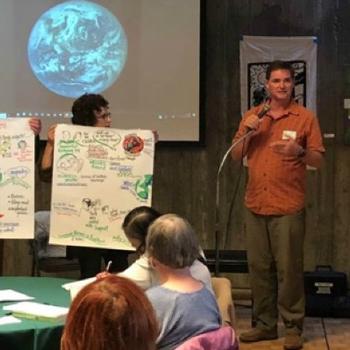 "We are one brief generation in the long march of time; the future is not ours to erase. So where knowledge is limited, we will remember all those who walk after us, and err on the side of caution. At this turning point in our relationship with Earth, we will work for an evolution: from dominance to partnership; from fragmentation to connection; from insecurity to interdependence." (David Suzuki, Tara Cullis, Guujaw, Wade Davis, Raffi Cavoukian)
Anthropogenic climate change - or environmental damage related to human actvitiy - is becoming more and more prominent. We are increasingly seeing many negative ecological, social and economic effects. Socially, issues such as violence, conflict, and inequity are rising, and effecting people globally. The number and severity of natural disasters is increasing, as well as the spread of infectious diseases. Children are especially susceptible to the associated effects of climate change, since children are often the most vulnerable and dependent.
Recently, youth and elder climate action is growing. However, these actions are happening separately so youth and elders are often disconnected from each other.
In order to help combat climate change, the International Institute of Child Rights and Development hosted an intergenerational climate gathering in October 2018 for youth, elders, and organizations to connect on Pender Island, British Columbia. The gathering was called Children and Youth in Climate Change: An Intergenerational Perspective, including a strong Indigenous focus. This gathering was an outcome of a larger gathering in San Francisco, California that happened in September as part of workshop at the Global Climate Action Summit. The Pender Island gathering spanned over five days.

"I want grandchildren to live the old way of life. I want them to live happier, proud, and protect them. We need to talk to mother earth to fill the hole so we don't fall into the cruelty of time." - Indigenous Coast Salish Healer, Willie Pierre

British Columbia is situated on unceded Indigenous territories. Opportunities for Indigenous people to connect with others and their culture are essential for reconciliation and decolonization. Indigenous people have been living on these lands for thousands of years, and we must acknowledge their deep understanding of local ecologies and systems. Thus, there is great importance of Indigenous ways of being and knowing for climate change adaptation, mitigation and resilience.
At the gathering, Indigenous youth were provided opportunities to connect and build relationships with each other, as well as elders, scientists, policy makers, and great thinkers. Participation and knowledge sharing provided opportunities for collective empowerment. Facilitated discussions ranged from climate action in relation to people's lives and work to the importance and requirement of Indigenous leadership and governance in climate action movements to connections in order to heal the earth and the people. From these discussions, it was recognized that relationships, storytelling, and communication are essential, as well as the simple fact that action needs to be taken, but our cultures, our experiences, and our bodies must first inform it. These gatherings are not only focused on education for youth, but on inspiration for youth, elders, and organizations, and helping each other feel supported in these gigantic tasks. Learn more about these critical conversations in our digital scrapbook of the gathering.

"We need meaningful Indigenous leadership (intergenerational) in order to restore balance amongst ALL RELATIONS and re-establish accountability to self, others, spirit and Land/Waters." - Erynne Gilpin, Indigenous Youth Activist
Besides the connections created and the inspirational dialogue, a few other positive outcomes came from the climate gathering on Pender Island. This included a refined policy brief drawing on the policy outcome statement from the September 2018 San Francisco, Global Climate Action Summit.
Another significant outcome of these gatherings is growing support for another gathering: a global climate change conference in 2020 in Nuu-chah-nulth territory on Vancouver Island. The conference will be hosted by Nuu-chah-nulth youth and Elders, with support by organizations such as IICRD, the University of Victoria, and the David Suzuki Foundation.
Tackling climate change is a massive, intimidating task. That's why working on mitigating and adapting to climate change with others through an intergenerational perspective is so important. It provides people with the support, knowledge, and inspiration they need for tackling these daunting, interconnected issues.
Story prepared by Selina Powszedny, a University of Victoria student placement with IICRD