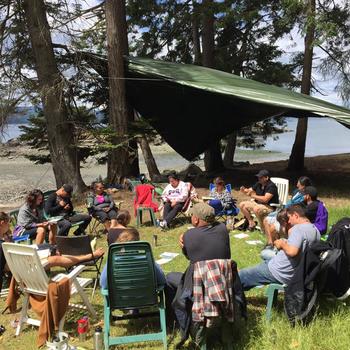 Developmental Evaluator, Elaina Mack, reflects on four important lessons from YouLEAD. This IICRD-led initiative encourages young people and practitioners to become leaders that question how they think, learn, frame, and lead in their work to support the well-being of children and youth and their families and communities.

4 Lessons from YouLEAD

LESSON 1 - Navigating tensions between creating, applying and growing YouLEAD. To deliver this initiative, IICRD works with practitioners, Aboriginal youth leaders and networks, Elders, community partners, educational institutions, government and funding partners. Within each diverse group there are unique (and sometimes conflicting) needs, 'cultures,' responsibilities and priorities. To navigate these tensions, we are learning to provide responsive programming by using different skills and strategies while holding a common vision for charting a collective path forward. For example, this lesson was put into practice when IICRD paused, engaged and adapted the name of the initiative to YouLEAD.
"Sometimes I feel like we are launching a rocket ship while building and putting all of the parts on at the same time." - YouLEAD Project Manager

LESSON 2 - Supporting Aboriginal youth leaders through an intergenerational team approach. YouLEAD practitioners are working with children and youth facing complex, adverse circumstances. While building new skills, many practitioners are also healing and transforming through relationships with staff, Elders and other peers. We are learning that a team approach is essential to creating a safe and supportive space for Aboriginal youth practitioners.

LESSON 3 - Staying small to sustainably 'scale deep'. Given the efforts needed to facilitate a safe space, we are shifting our approach to promote transformative change. Rather than striving to scale 'out' (greater numbers) or 'up' (changing rules/policies), YouLEAD will focus its energy on 'scaling deep' through influencing people's hearts and minds, values and cultural practices as well as through the quality of relationships (see J.W. McConnell Family Foundation and Tamarack Institute, 2015).
"I learned that it is not always the big things...the small steps and things you do can have lasting impact." - YouLEAD participant

LESSON 4 - Integrating skill-building to step up YouLEAD potential: We are learning that while participants are sharing positive reviews about YouLEAD courses, they are sometimes struggling to apply new skills and tools into their community/organizational context. In year two, IICRD will work with the Advisory Committee to develop strategies to support participants to better integrate their learning into their practice.
Lessons were gathered in June 2016 through participatory activities, interviews and observations with staff, partners and youth practitioners. To learn more about YouLEAD, including participant blogs, visit IICRD's learning hub.