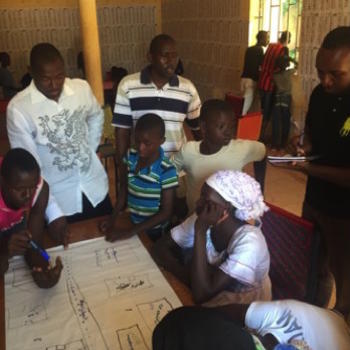 Whether you are trying a new sport, learning a language or changing your diet, it is important to understand your starting point so that you can track your progress.
This compelled the International Institute for Child Rights and Development to team up with Right to Play to assess the context and conditions for the Jam Suka project – a five-year initiative seeking to address the protection needs of crisis affected and vulnerable children, especially girls, in three regions of Mali, Africa (Kayes, Sikasso and Mopti).
The Jam Suka project, or 'pillar of tomorrow' is being spearheaded by Right to Play with support from Global Affairs Canada. Right to Play is engaging local communities, civil society and international organizations to strengthen the protective environment around children.
"It's important to understand Jam Suka's starting point," says IICRD's Philip Cook. "By exploring the protection needs, systems capacity and the well-being of vulnerable children at the beginning of the project, we can better understand any changes over time. It can also help Right to Play to enhance Jam Suka's program design and learning linkages with partners."
A mix of quantitative, qualitative and secondary data was gathered to develop the baseline assessment. The IICRD team, including Armel Oguniyi, Ilan Cerna-Turoff, Michele Cook and Philip Cook, trained a cohort of census takers who conducted an ambitious 1,200 household survey. Walking door to door, the team used tablets to gathered the perspectives of adolescents, vulnerable groups, caregivers and practitioners. Rich narrative descriptions were also collected collected through interviews with children and community members. Playful research tools also engaged young people in all three regions to actively participate in data gathering, analysis and where possible validation.
"I talked with my father about returning to school someday but he says I should stay in the mine as school graduation doesn't lead to guaranteed work. He also worked in the mines and his father before him, this is our family tradition for men. Still, I often think of what I missed in school and I would advise my peers to stay in school, the life in the mines is too hard." – Interview with 17-year old boy working in the gold mines of Mali.
The research was conducted and synthesized into a presentation and report for Right to Play in the fall of 2016. This data was used to inform the project implementation plan (PIP) and anticipated outcome measures.
"What was striking for me was bringing all the data together. Our conversations with children and community members helped us to understand the context," says IICRD's Michele Cook. "For instance, we learned that most children want to go to school but working in mines can help to protect children and their families from the vulnerabilities of living in poverty. Right to Play will need to address some of these underlying assumptions to deliver the Jam Suka project."
The IICRD team including Michael Miner will continue to work with Right to Play to develop indicators and build local capcity. Ongoing learning will also be supported through the development of a Theory of Change with IICRD's Elaina Mack and ongoing learning cycles to be supported by IICRD's Natasha Blachet-Cohen, Developmental Evaluator for the project.