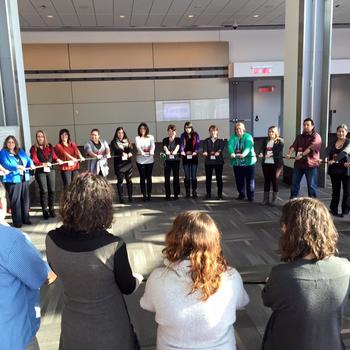 YouLead unites approximately 35-career development and counseling professionals in circle to explore innovative Indigenous Training and Capacity-Building Models. The workshop was featured in the 2016 national Cannexus conference–bringing almost 900 delegates to Canada's capital. YouLead is an innovative leardership and child protection learning programs supporting young people and practitioners working with communities to protect and support the well-being of children and youth.
"It was a beautiful moment to watch everyone step into things. There was a lot of gelling that happened," says Michele Cook, IICRD's Capacity Director. "It is great to see the project coming to fruition. I came back from the conference feeling inspired and full – ready to support the potential of the project."
During the workshop, the team provided an overview of the program and shared personal stories about how YouLead is helping participants to identify, build, and recognize skills. Serena Read, for instance, stressed the importance of being able to articulate the skills and benefit of community activities. She shared an example of tribal councils pulling funding for youth dances because they did not understand the skills the youth were developing in hosting these successful events. Hannah Clifford highlighted her plans to apply for the new Bachelor of Arts in Leadership at Royal Roads University - something she never thought could be possible. Participation in the YouLead program has also given Cheyenne Stonechild credibility and support for her acceptance into her current apprenticeship as a Private Investigator.
On closing, participants congratulated the young people for their dedication and good work and one even asked how IICRD could bring the program to Saskatchewan.
Team members facilitating the workshop included: Serena Read, Sarah Sandy, Hannah Clifford, Cheylene Moon, Cheyenne Stonechild, Micheal Montgomery and Michele Cook.