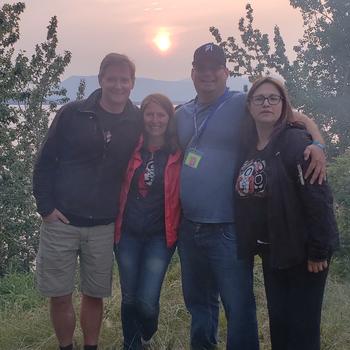 Community Planning with the 3 Nations
Sticky notes, white boards, markers, virtual survey tools and a heavy dose of coffee are probably the things that most people think of when brainstorming to identify key priorities to meet community needs.
Instead, our IICRD team chose a unique on the ground approach to empower each of the six remote communities – spanning the 3 Nations situated in the farthest reaches of North British Columbia and into the Yukon – to imagine what holistic supports for children and families could look like for the next decade and beyond. The 3 Nations include: Kaska, Tlingit and Tahltan. [Photo: IICRD - Philip Cook, Michele Cook, Justin Young-Thundersky with SWWG - Nadine Handel]
The Stikine Wholistic Working Group approached IICRD to support the community engagement and directions process in 2019. Following ten years of successful culturally grounded programming captured in two evaluations as well as an increase in funding from Federal and Provincial Governments, the 3 Nations decided it was time to return to the communities to renew the vision of Stikine Wholistic Working Group.
"To hear as many stories as possible, we focused on meeting with children, youth, Elders, parents and practitioners in places where Nation members share, discuss and celebrate," says Michele Cook, IICRD.
In total, 650 community members across all six communities within the 3 Nations were involved: Dease Lake, Telegraph Creek, Iskut (Tahltan), Atlin (Tlingit), and Lower Post/Daylu, and Dease River (Kaska).
A poster, inspired by the work of the SWWG, was created to share what changes had already happened in the community from the previous ten years.
Bringing listening ears, open hearts and sturdy shoes, the team met with community members at a variety of places including:
land-based culture camps
baby naming ceremonies
traditional economic activities such as fish camps on the Taku
schools
"While we used creative approaches to engage young people and other community members, IICRD adapted the core questions from the original 2009 Directions process to prompt conversations," highlights IICRD's Philip Cook. "This helped build on the strong foundation set down in the initial directions and allowed for deeper discussion and reflection on SWWG and the role of children, families and communities in supporting healthy human development and well-being."
Following the community consultations, the Directions team conducted an in-depth review of all interviews and surveys and synthesised this very rich source of information to inform SWWG's New Community Directions. The 3 Nations is finalizing the report to share, launch and implement this renewed vision with communities in 2020.
"I learned a lot from this process. I was hugely inspired by the young people that we met, and with the power of just sitting with people on the land to hear their stories of what was needed, and what could be." - Justin Thundersky, IICRD