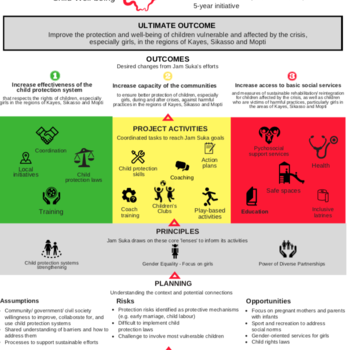 Nestled in the heart of Western Africa, Right to Play is striving to work with young people, leaders and local organizations to change the way that children grow up in Mali. The International Institute for Child Rights and Development is helping to chart these efforts through supporting Right to Play to create a Theory of Change tool for the Jam Suka initiative.
The five-year initiative, funded by Global Affairs Canada, is called and grounded by the local (Peulh) meaning of child well-being: Jam Suka. To improve the well-being of children, especially girls, Right to Play is working in partnership to help protect children who are vulnerable or affected by several challenging crises in three regions in Mali: Kayes, Sikasso and Mopti. Activities such as supporting children's clubs, training, and partner coordination are expected to help increase community capacity, access to basic services, and improve the overall effectiveness of the child protection system.
"Over the last two decades, we've seen a dramatic shift in the Child Protection sector," reflects IICRD's Philip Cook. "We are seeing more movement away from issue-driven strategies (e.g. preventing child labour or trafficking) towards more integrated, holistic child-centred approaches. These approaches recognize that there are many dynamic, complex, and interrelated factors (both positive and negative) that can influence a child's life."
To explore the implications of these factors, IICRD worked with Right to Play staff in Mali and Canada to develop a Theory of Change tool for the Jam Suka initiative. A Theory of Change is an illustration and comprehensive description to help explain what a program does (its approach or activities) and how it contributes to reaching its desired goals for a particular context (e.g. region/community). Creating this tool involved workshops and several meetings with the Right to Play team. These conversations built on IICRD's earlier collaboration with Right to Play to conduct a baseline evaluation of the Jam Suka project.
"When I'm meeting with youth and community members, I need an engaging way to share the essence of Jam Suka's story," says Armel Oguniyi, IICRD Associate and Monitoring, Evaluation and Learning Manager with Right to Play, Africa Office. "At the same time, I need to ensure that our evaluation and performance frameworks are still reflected in this story. Jam Suka's Theory of Change will help us to do just that."
Through simple images, the Theory of Change illustration helps to explain the program's goals, activities, principles, planning considerations and partnerships. A companion narrative discusses the underlying definitions, assumptions, risks and opportunities related to the program's key strategies and outcomes.
"While we look forward to using this as a framework to engage with, and work alongside, key community stakeholders in Mali, what was most useful for us was the collaborative process through which we developed Jam Suka's Theory of Change," says Emily Kere, Director, Monitoring, Evaluation and Learning at Right to Play International. "Inclusive and intentional dialogue really underpinned the way in which colleagues in Mali and Canada were able to pull together an overarching picture of child protection programming and our role in such important work—what we are doing, where, why, who we are going to involve and above all, how we are all going to roll up our sleeves to try to bring about meaningful changes for children in many parts of Mali."
Visit Right to Play to learn more about Jam Suka's programming.
IICRD Team members on the project included: Philip Cook, Elaina Mack, Michele Cook and Micheal Miner