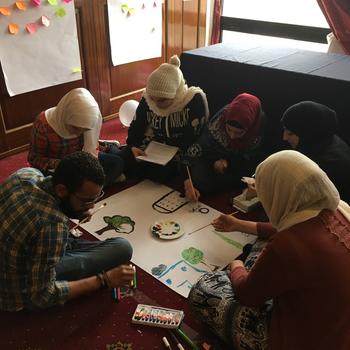 The International Institute for Child Rights and Development (IICRD) is partnering with Terre des hommes on a project in Egypt and Iraq entitled YouCreate: Child and youth-led art initiatives to support their psychosocial well-being and protection in migration and adversity settings. We are working in partnership to develop a methodology to strengthen resilience and the psychosocial competencies of children and youth.
The aim is to increase their empowerment, protection, and agency using art (and digital technologies) as a support for child and youth-led interventions. Using arts-based participatory action research, young people are being trained as leaders and researchers in their own lives, leading their peers through an arts-based process to explore the strengths and challenges that exist within their individual, family, and community contexts. Young people will then use the arts to address some of the key challenges to their wellbeing, implementing arts-based activities for positive social change.
With the objectives of strengthening wellbeing, resilience, and leadership among youth, YouCreate has been positively impacting youth. YouCreate has been carried out in Iraq and Egypt and is expanding to other countries and regions (Ukraine & Greece). This PAR project has been breaking down barriers between youth, their families, and communities who are coming together with a common purpose of strengthening wellbeing through the arts.
Key project deliverables include:
YouCreate Art-kit: The Art-kit is a guide that youth leaders can use for planning and leading activities and provides tips and tricks for supporting youth leaders work.
YouCreate Project Management Guide: The YouCreate Project Guide was designed to help project staff to understand the YouCreate project and how they can support youth and colleagues to develop a strong project.
YouCreate Capitalization Report: This report provides important background information on the current state of arts-based programming for young people impacted by migration and adversity worldwide.
This project will expand on IICRD's academic research and practitioner experience, drawing from best practices in psychosocial approaches for and protection of children and youth experiencing adversity in various situational contexts, particularly for young people experiencing migration. Arts-based programming that builds on young people's agency, resilience and contributes to their empowerment will be a cornerstone of this initiative.
"As the number of young people impacted by migration and adversity continues to grow in recent years, there is a pressing need to engage these young people in creative ways to work through the challenges they are facing. The arts offer a real opportunity to empower young people to express themselves, share their thoughts and ideas, play a meaningful role in their communities and create positive social change." - Vanessa Currie, IICRD Associate
Please note: Consent was obtained by the young people for their photo to be used as part of the YouCreate project.