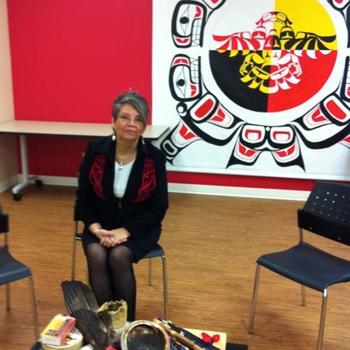 Strengthening Our Practice for Aboriginal Children and Families (SOP) is a reflective practice framework development project in which the Vancouver Aboriginal Child and Family Service Society (VACFSS) seeks to better understand: what makes the Society's practice and approaches unique how the VACFSS values and concepts, such as "child as sacred bundle", shape and orient practice at VACFSS approaches to child and family protection, well being and resilience (which models make the most sense for VACFSS?) what works best and some of the most central challenges at VACFSS potential recommendations for training, quality assurance and evaluation.
In 2012-2013, this project:
Engaged in a collaborative process of deep, reflective discussion with 32 managers, key knowledge keepers , front line and administrative staff Conducted 4 staff engagement sessions and 4 focus groups with families, foster parents, service agencies and youth. The staff sessions included 18-24 people each, comprising a total of more than 80 staff participants from various levels at all VACFSS programs. 8-15 people participated in each of the client focus groups Harvested this practice based wisdom in a final report that was shared with the board of directors and participants
In 2013-2014, Phase two of Strengthening Our Practice for Aboriginal Children and Families (SOP) focused on the development of in house training, a review of legislation and policies, and the integration of Monitoring and Evaluation practice tools into daily practice. We worked with the advisory committee and managers from the 4 areas of practice to review legislation and practice standards and to co develop prezi training materials and case stories that will be used to train staff on restorative Aboriginal child welfare practice. We also presented the project process and outcomes at the Winnipeg International Indigenous Social work Conference in July 2013. We co-developed 4 Restorative Practice Prezi's focused on:
Collaborative Practice
Inclusive Foster Care
Integrated services and the Strengthening Families Program, and
Strength based - least intrusive child protection
Phase 3 of SOP will focus on piloting the training material, gaining input from families, the development and integration of key indicators for restorative practice into standards, and the documentation of key findings and learnings. PROJECT IMPACT As a result of the feedback and information gathered through cultural practices, organizational structures, and front line practices, VACFSS has implemented several changes to better communicate and practice with vulnerable children and families. VACFSS will be focusing on the development of in-house training for staff to ensure consistent best practice across the agency.