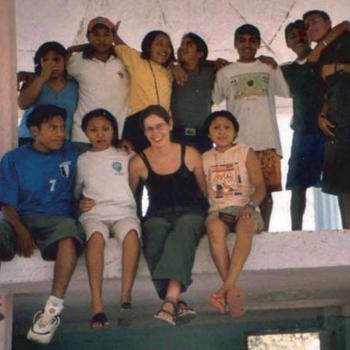 Between 1998 and 2005, more than 50 young professionals were given their first career-related international experience through IICRD's Young Professionals International (YPI) program (funded by the federal government).
In the previous program, IICRD arranged many different types of placements for Young Professionals (YP) in 10 countries. The impact of IICRD's Young Professionals has been felt in a variety of areas. A common theme with all placements is their participation in a movement to create a culture of children's rights. All YPs learned to understand the UN Convention on the Rights of the Child & how it can be used effectively to benefit children, especially the most vulnerable, within various cultural contexts. This understanding permeates their research, their efforts at building capacity in communities, and their approach to child rights education.
Objectives of the YPI initiatives included to:
Train young professionals on children's rights before they left for their international placement
Support international partner organizations in the implementation of culturally appropriate and sustainable rights-based approaches
Promote children's rights through local governance, direct programming, training, and research learning/influence (local partner and IICRD -programs, partners, staff)
"My time overseas as a IICRD young professional changed my life; it put me on a course where I was able to make important contacts and understand the operating systems of NGOs. I know that my future consists of working in aiding street children's participation and promoting their rights…and this is because of my experience as a young professional. It is truly a great program, worth every penny that is put into it." - Kabita Chakraborty, Young Professional International, placement with Save the Children Alliance, Thailand (2002-2003)
"The most rewarding part of my experience was watching the youth I worked with change. I did a lot of confidence-building work with them and was so proud to see them become young people who could stand up and really claim their right to be healthy." -Erin Hetherington, Young Professional International, placement with Investigacion y Educacion Popular Autogestiva, Mexico (2002-2003)
Learn more about IICRD Young Professionals International program in this impact report. The YPI program placements were funded by the former Department of Foreign Affairs Canada (now Global Affairs Canada) as part of the Government of Canada's Youth Employment Strategy.