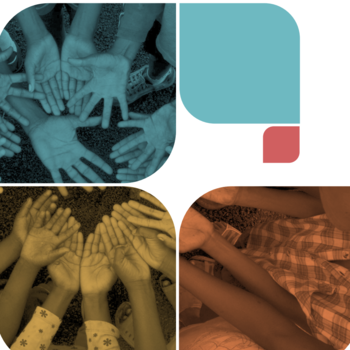 The limitations of COVID-19 have prompted us to seriously reflect on the ethics of engaging with children. How is it best for adult-led organizations to reach out to children? Who should do so, and how can they do so safely?
Despite the COVID-19 challenges, children around the world have found meaningful ways to support and protect their peers, families, and communities.
IICRD teamed up with Child Protection Area of Responsibility(CP AoR), CPC Learning Network, International Federation of Red Cross and Red Crescent Societies (IFRC) to produce the "Moving Towards Children as Partners in Child Protection in COVID-19 Guide: From Participation to Partnerships." This global collaboration intended to strengthen child protection in emergencies, with the onset of COVID-19 demonstrating the impact of unprecedented challenges caused by quarantine measures and school closure policies on children and youth. As a result, this guide aims to provide practical guidance on how adult-led organizations can reach out to children safely during this time and links to additional resources to support leadership rooted in child-adult partnerships.
Building on this resource co-written by IICRD's Vanessa Currie and Laura Wright with Helen Veitch, Yana Mayevskaya, and Lindsay Rogers, this global partnership will be piloting two to three child participation tools from the "Moving Towards Children as Partners in Child Protection in COVID-19 Guide". This process seeks to contribute to the development of strong policies and processes on child protection in Uganda and inspire other members of the National Community Engagement Strategy for COVID-19 Response in Uganda. The team will also be piloting the tools in 1-2 additional locations in 2021. The learnings from this pilot will inform the guide through a lessons learned document that will be shared broadly and shape international promising practices.
Accompanying this guide is a shared Dropbox folder of resources, guides, and ideas for child participation during COVID-19, as well as an annotated bibliography of over 100 resources that are a sample of the larger folder. Click here to access the folder.
Also available as part of this project is the video series Spotlight Series: Children as Leaders and Partners in COVID-19. The short videos, which are available with English, Arabic, French, and Spanish captions, shine a light on creative examples of child-led initiatives during COVID-19.
Finally, on September 29, 2020, partners in the project held a webinar, Children's Voice: Maintaining and Adapting for Safe Child Participation during COVID-19 (available by clicking on the video below) to introduce the above resources and to explore ways in which children can be engaged as partners and leaders in child protection during the COVID-19 crisis; experiences on meaningfully engaging children were shared from the field.