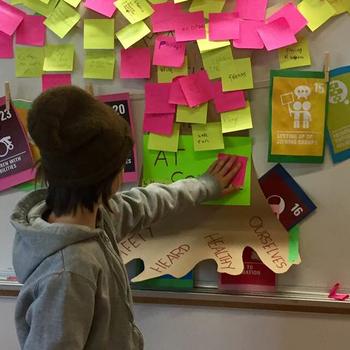 Child Thrive draws on rights-based approaches to foster a sense of belonging amongst children, families, schools and communities. Thousands of children and educators have participated in our programming, focused on:
-Creating environments for young people to meet, play and interact with a variety of people committed to their well-being
-Facilitating community education programming to improve awareness of child rights and responsibilities, including ways to strengthen practices based on issues and ideas identified by local young people
-Supporting leadership and learning opportunities for young people to express their ideas on what they need to thrive
-Advocating local networks to strengthen the cross-sectoral connections of organizations serving/engaging/advocating with and for children
Where possible, Child Thrive connects Victoria-based innovators (children, pracitioners, artists, teachers, etc.) with practitioners in communities across in Canada and internationally through innovative and virtual programming.
Learn about our programming to including school-based activities, intergenerational workshops and cross-sectoral forums. Watch Giggles, our Child Thrive puppet, in this show and tell video with the Representative for Children and Youth of British Columbia.
"I learned about the difference between what I 'need' to grow, and what I really just 'want'. My favourite thing was the fishing game for rights and responsibilities." – Child, 6 years old, Oaklands Elementary School