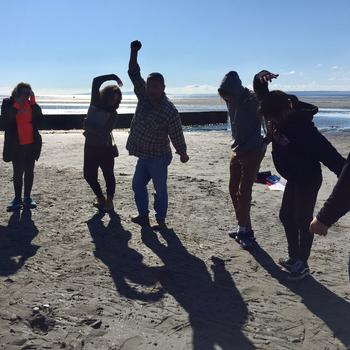 Imagine a child and being told that you have to move away from the familiar people, places, and activities that are essential to you. Then, growing into adolescence, you are filled with questions - Where do I come from? Where is my family, and who am I?
Generations of Indigenous children in Canada have experienced this and continue to grow through these challenges. Despite policies to establish appropriate care plans, Indigenous youth aging out of care still feel a sense of loss. They need more consistent access to traditional knowledge keepers as well as the time to practice what they have learned. This can help to reinforce their inner cultural foundation (the ways of being).
Inspired by Cheyenne Stonechild's lived experience, the 4 Generation Project seeks to empower Indigenous youth with the knowledge and practical skills needed to become the next generation of grounded leaders.
The project sets out to fill a gap that exists for children under the government's responsibility - supporting non, current, or former Indigenous youth in care living in Vancouver, British Columbia - to re-establish a link to their heritage and cultural roots. The program seeks to bridge a gap for children in care who come from Indigenous communities outside of Vancouver, BC.
"It's been about 4 generations since my family lived traditionally. Over the last century, my family has faced significant struggles and displacement. While I am affected by intergenerational trauma, I feel like I am the first Generation to disrupt this cycle. That's why I wanted to start this project." - Cheyenne Stonechild
Objectives of the program are to:
• Deliver a program that is informed by culture and lived experience to Indigenous children in the government's care and help them develop the knowledge, practical skills, and self-awareness of their culture.
• Engage in hands-on learning activities, including history, land stewardship, genealogy, medicine, and bridge-building with communities. The program features workshops with well-known speakers, respected Elders, and youth participants to focus on the four programming elements:1) Atalokana & Tippacimowina (Oral Traditions), 2) Understanding Our History & Rights, 3) Medicine & Skill Development, 4) Here In Community – Putting Your Knowledge Into Practice.
• Build a circle of support for each participating Indigenous young person through trusting and dependable relationships that can foster a sense of belonging.
• Coordinate flexible approaches with Indigenous children under the government's care to ensure accessibility and participation.
The project and Project Manager, Cheyenne Stonechild are featured in Smash & Tess Blog. Smash & Tess, a Vancouver-designed, North American made and globally inspired, clothing manufacturer is collaborating with the 4 the Generation program. 4 the Generation's cultural retreat for Indigenous youth was also featured in a 2019 edition of Power Pages, a magazine distributed to more than 2,000 youth and service providers (see page 22).
"There are all these policies and professionalism, but sometimes you need to be a person. You need to bring a level of humanity when you are trying to build trust with a young person. It is about creating this ripple effect. We need to trust people to hold our hearts- to help us get to where we need to be." - Cheyenne Stonechild, 4 the Generation Program Manager
This project was generously supported by the Vancouver Foundation's Fostering Change initiative. For more information about 4 The Generation, contact info@iicrd.org.