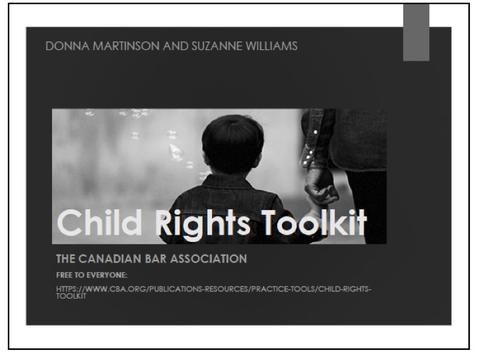 IICRD Associate, Suzanne Williams and the Honourable Donna Martinson Q.C. (retired) led the launch of the Canadian Bar Association's (CBA) Child Rights Toolkit at the Access to Justice for Children: Child Rights in Action Conference that they co-chaired on May 11 and 12, 2017 in Vancouver in cooperation with the Continuing Legal Education Society of BC (CLEBC) and the Canadian Bar Association's BC Children's Law Section.
"We know about child rights – it's time to give them meaning," says Suzanne. "The Child Rights Toolkit was inspired by the need to improve children's access to justice in Canada. It is for professionals working in legal and administrative decision-making [including child protection] who want to better understand and implement a child rights based approach in practice and strengthen their advocacy for children."
Background on the Toolkit's development and its four main areas were shared during the Child Rights Toolkit launch presentation, attended by more than 300 participants live and via webinar from across Canada.
The four main areas are:
Child Rights Fundamentals: Provides the fundamental framework of child rights including where they come from, what they are, who is responsible and the status of child rights in Canada.

The System: Cross-Cutting Themes: Outlines available systemic child rights supports and tools and in particular independent human rights institutions and child rights impact assessments.

The Child: Cross-Cutting Themes: Highlights subjects that may be applicable to the child or a group of children you work with that transcend all areas of the law, such as Charter rights, best interests of the child, child participation, legal representation and freedom from all forms of violence.

Legal Areas: Provides four steps to implement a child rights based approach in practice as well as child rights information and law in specific legal domains such as child protection, family law, youth criminal justice, and immigration. (Source: Canadian Bar Association website, accessed May 24, 2017)
The 2-day Conference also focused on these core areas and engaged experiential young people in the planning and presentations. IICRD Board Director Cheyenne Stonechild was also a member of the Conference's planning committee and a presenter.
Funded by the Law for the Future Fund, the Child Rights Toolkit was developed by the Subcommittee on the UN Convention of the Rights of the Child of the CBA's National Children's Law Committee. It is available for free to all who are interested in advancing child rights and knowing their legal status in Canada.