IICRD Annual Report - 2016-2017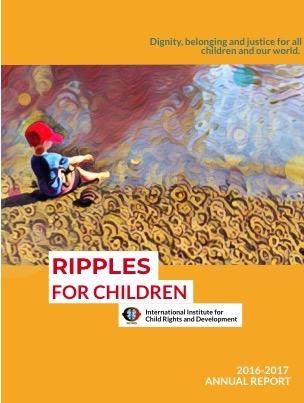 During our Annual General Meeting on Thursday, December 7th, the International Institute for Child Rights and Development presented its annual report (2016-2017), focused on the 'ripples' that IICRD is creating with children over this past year. This is the slow, incremental effects of our collective efforts to 'throw pebbles' into waters around the world.
"Over the 2016-2017 year, IICRD has continued to provide innovative, child and youth centered programming—locally, provincially, nationally and internationally. The scope and reach of IICRD's vision, putting children and youth at the centre, while promoting dignity, belonging and justice for all, is more critical than ever." - Katie Shaw-Raudoy and Philip Cook (Chair and Executive Director)
The report highlights that IICRD gave child rights meaning and created positive change by:
-Engaging more than 3,400 young people from 24 countries, including Canada: Activities range from playing with skipping ropes and puppets to participatory action research, sports, social media/technology, interviews, wood carving and community-based mentorship.
-Working with close to 800 adult allies to support children to thrive: Parents, teachers, Elders, youth workers, academics, government representatives and others participated in training, household surveys, focus groups, interviews and experiential community development tools.

-Focusing on the strengths of young people through through harnessing culture, engaging in sport, and creating playful spaces: These efforts involved understanding the lived realities of young people, including challenges such as early marriage, forced displacement due to conflict, poverty, disconnection from culture, neglect, violence, isolation and other barriers.
Please see our infographic style annual report for more information about our work last year.