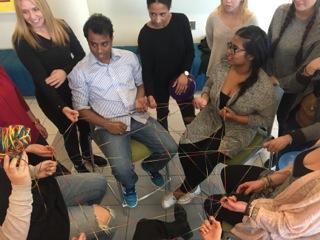 In February 2016, IICRD's Dr. Philip Cook uses participatory tools to engage sixteen graduate students at the University of Calgary to explore a module on child rights, child welfare and development.
The Advanced International Social Work course focuses on deepening students' knowledge about (a) factors and situations that influence human vulnerability and well being at a global level, and (b) internationally recognized principles, standards, models and frameworks that support and advance practice related to global social issues and social development concerns.
The course, co-taught with Jean Slick and Jane Murphy Thomas, also included modules on disasters, conflict and development; and, sector-based development practice.