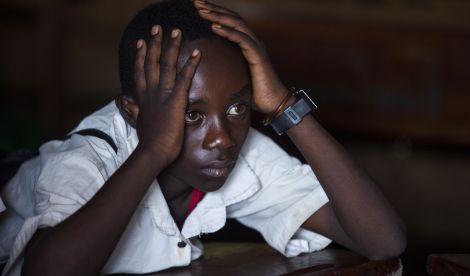 Long-term violence in eastern DRC is causing permanent damage to children's physical and mental health, says new World Vision report
A generation of children in eastern Democratic Republic of Congo (DRC) are at risk of permanent physical and psychological damage as a result of persistent conflict, a new report by aid agency World Vision finds.
The organisations says that children living in areas regularly rocked by bloody and brutal conflicts are developing in an environment of toxic stress, potentially altering their brain structures and leading to a host of life-long illnesses.
The continual violence, and their exposure to it, can alter their brain's architecture, potentially having a lasting impact on their learning abilities, memories and emotional control, along with leading to an increased risk of mental illness and heart, liver and lung disease in adulthood.
More than 1.5 million people have fled their homes in eastern DRC, and almost every child World Vision interviewed for the report (96%) has been forced from their home, many more than once. But the organisation believes another reality is possible.
In Their Own Words
"I am always afraid since I was raped. Every time I hear a loud noise, like a plate dropping, it grabs my heart. I am always scared because there is always conflict," said 14-year-old Laini.
"I heard gunshots and fled with my mother. I was ahead of my Mum and they killed her. Then, on the journey, two armed men raped me and I became pregnant," described Mapendo, 16.
"Armed men arrive. I saw them take adults and tie their arms and feet with their clothes, and then beat their heads with hammers," said Patrick, 12.
"We are most afraid of rape because it is not only by one person – it can be more than ten people or by armed men who have taken drugs, and we are just little girls," said Zabibu, 14.
Reliefweb article
The Guardian article