From Participation to Partnerships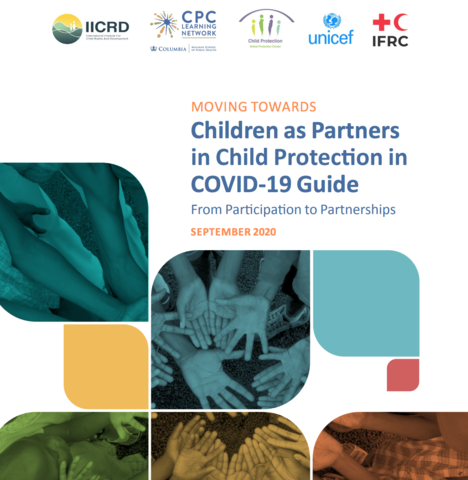 The Child Protection Area of Responsibility (CP AoR), Care and Protection of Children (CPC) Learning Network, International Institute for Child Rights and Development (IICRD), International Federation of Red Cross and Red Crescent Societies (IFRC), and UNICEF are excited to share the new 'Moving Towards Children as Partners in Child Protection in COVID-19 Guide: From Participation to Partnerships' (co-written by IICRD's Vanessa Currie and Laura Wright with Helen Veitch, Yana Mayevskaya and Lindsay Rogers).
The limitations of COVID-19 have prompted us to seriously reflect on the ethics of engaging with children. How is it best for adult-led organizations to reach out to children? Who should do so, and how can they do so safely? This guide comprises five modules that provide some guidance on those questions and links to additional resources. The beginning modules focus on quick tips and tools to start engaging with children immediately. The latter sections are designed to assist those who have found the quick tips and tools to be useful to engage in deeper reflection and action about how to practically center children's voices and leadership in their work. This guide will be piloted in a handful of countries with the IFRC. If any country context or organization is interested in utilizing or adapting this guide, please reach out to the CP AoR Help Desks. To accompany the guide, there is a shared DropBox folder of resources, guides, and ideas for child participation during COVID-19 and an annotated bibliography of over 100 resources that are a sample of the larger folder.
Although the limitations of promoting children's participation during COVID-19 are strong, child-led and child-centric initiatives have emerged as the pandemic has spread around the world. To highlight some of the creative examples, we are simultaneously launching the Spotlight Series: Children as Leaders and Partners in COVID-19. The first video in this series spotlights a 16-year-old teen from Gaza who designed a phone application on her own. She provides us with reflections about how organizations could partner with young leaders like herself. Three additional videos will be released over the next month on the CPC Learning Network's Facebook page showcasing innovative programs that incorporate children's voices in their projects. Stay tuned!