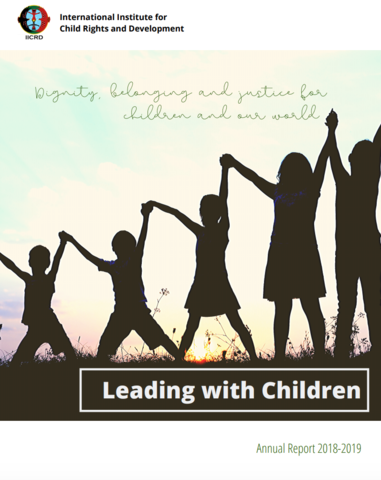 Wrapping up the year, the International Institute for Child Rights and Development held its Annual General Meeting on November 25th, 2019 to share highlights, lessons and impacts from the 2018-2019 fiscal year.
This year, the landscape of child rights has been incredibly inspiring, as young people around the world demand global systems change to address the climate emergency. We have watched as unprecedented numbers of young leaders and activists stand up for vital issues locally and globally. This has challenged us to think about how we can bring the spirit of our own creative destruction process to global questions around systems change. How can we support youth-led movements? How can we help protect young people who are speaking out and possibly putting themselves at risk? How can we support young people who do not currently have a voice to find a space to share their ideas? How can we connect ideas and action to disrupt and shift systems while building intergenerational bonds?
As we navigate this new landscape, IICRD continues with our child-centred programming. Over the past year, our work has focused on two exciting themes: community level child protection and child/youth-led approaches that are participatory, creative and play based. We invite you to learn more about our work in this 2018-2019 Annual Report.
We are also thrilled to welcome several new Board Directors to IICRD's governance team including: Kate Butler (Chair), Zahra Jamale (Secretary), Shelley Jones, Taryn Danford and Mary Clancy. We are incredibly grateful for the continued support of longstanding Directors: Renee Lorme-Gulbrandsen, Angie Mapara-Osachoff, Bill Meyers, Cheyenne Stonechild and Katie Shaw-Raudoy. Our thanks also go to outgoing Directors Nigel Fisher and Simon Jackson for their many contributions to our organization.
Last year, our participatory research, intergenerational learning and knowledge sharing activities engaged:
6,775 participants including

2,895 children & youth

3,880 adults - practitioners, professionals and parents In

10 countries: Canada, Mali, Sudan, Uganda, Iraq, Egypt, Thailand, Indonesia, Brazil, & USA