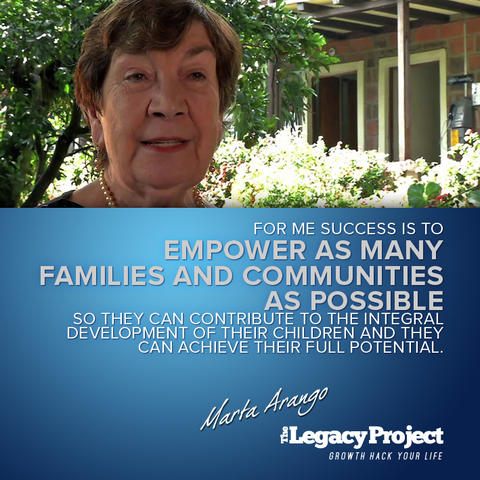 The International Institute for Child Rights and Development honours the life and legacy of Marta Arango who left this world in her home country of Colombia on November 25th – just months after her 80th birthday.
"We live in a world where we need wise Elders, living holders of deep social knowledge who can guide us through these troubled times. Elders who have dedicated their lives to children, are especially precious in bridging the two ends of the human family lifespan," says IICRD's Philip Cook. "Marta Arango was one such Elder, a human being who had dedicated herself to understanding the complexity of childhood and applying this knowledge to serve vulnerable children and their families and communities in Colombia and around the world."
The International Institute for Child Rights and Development was first introduced to Marta through our relationship with Roger Hart at the City University of New York Graduate Centre. This connection grew to collaborating with Marta, Manuel Manrique and the CINDE team to implement a four-year Protecting Early Childhood from Violence in Colombia initiative. Through working with community women champions for children, the "Promotoras", IICRD learned together about the complexity of challenges facing young children, parents, and youth in Medellin's violent Comuna 13. We also learned about the strengths of these families and the Promotoras working to support them. This spirit of human resilience in the face of great human adversity characterized Marta.
"Over the years the teacher from Envigado spread her wings and became one of the best of people, known for her boundless creativity, her apt advice, her fresh and bubbly sense of humor, always ready to break the ice and delight friends," reflects IICRD Associate Manuel Manrique. "Marta always strove to show respect to every individual, no matter their background, age or place of origin. She was devoted to her family, and maintained an open mind and heart for all, regardless of differences."
In addition to her work with IICRD, Marta leaves many legacies including her work with the 20-year old Promesa project which inspired the creation of the Centro Internacional de Educación y Desarrollo Humano (CINDE), a research and development center focused on childhood founded in 1976 by Marta Arango and her partner Glen Nimnicht.
IICRD will remember her deep laughter and ironic sense of humour in the face of human frailty, as well as her insights, and her capacity to bring diverse actors together in commitment to children.
To learn more about Marta's life and legacy, read this beautifully written tribute by Manuel Manrique, published in the El Mundo de Medellín on November 30, 2016. The article was translated into English by Cynthia Selde.
"As the Japanese say, Marta was a "living treasure", and we will treasure her memory and the gifts she shared so generously with children and the world." – IICRD Philip Cook