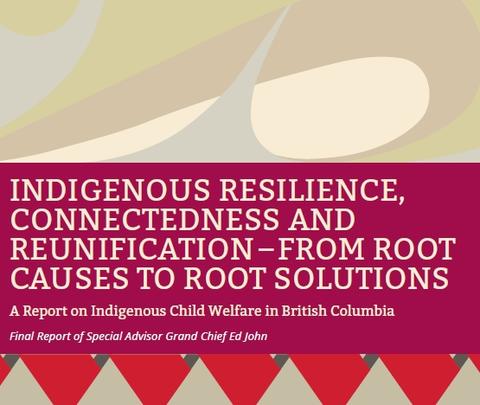 On November 21, 2016, a report was released that is fundamentally important for Indigenous child welfare in B.C., and that also connects with the IICRD mission to support dignity, belonging and justice for children and youth:
INDIGENOUS RESILIENCE, CONNECTEDNESS AND REUNIFICATION – FROM ROOT CAUSES TO ROOT SOLUTIONS
A Report on Indigenous Child Welfare in British Columbia - Final Report of Special Advisor Grand Chief Ed John
Excerpt: "Your government asked for advice on Indigenous child welfare. 'There are too many Indigenous children in care and something needs to be done,' I was told in the lead up to my appointment last year. While I was not sure I was the best person to give this advice, my immediate reaction then was to say, 'Keep the children at home. Do not remove them; and see those in care returned back home.' I had a sense then that the best advice would come from those who were directly impacted by the existing laws, regulations, policies and practices of the state.
My time as Special Advisor has served to reinforce this belief. I respectfully submit my final report, Indigenous Resilience, Connectedness and Reunification – From Root Causes to Root Solutions. As emphasized in my report, the opportunity for BC, Canada and Indigenous governments, communities, and families to work in partnership to recognize, constructively address, and reconcile our respective interests to better support the needs of all Indigenous children has never been greater than it is today."