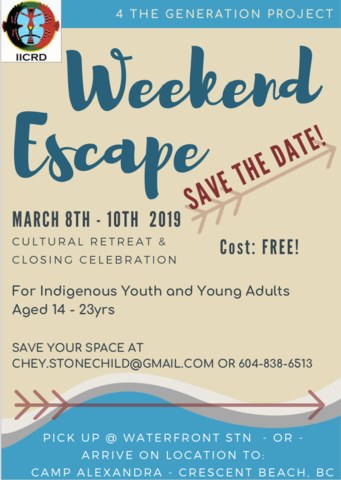 ARE YOU AN INDIGENOUS YOUTH FROM THE GREATER VANCOUVER AREA BETWEEN THE AGES OF 14 AND 23 YEARS AND LOOKING FOR A FUN AND MEANINGFUL WEEKEND WITH OTHER YOUNG PEOPLE?
We invite you to join us for a 'Cultural Weekend Escape' this coming March 8-10, 2019 to connect with friends, meet new people, build some skills and have fun! The retreat will be held at Camp Alexandra on beautiful Crescent Beach.
The weekend retreat is FREE: including activities, accommodations, food and transportation.
Confirmed facilitators: The Honourable Donna Martinson, Justice of BC Supreme Court (Retired); Jeska Slater, Youth Coordinator/Advocate for Fraser Region Aboriginal Friendship Centre Association; Patricia Tuckanow, Elder; Angie Osachoff, Senior Regional Program Coordinator for Equitas, the International Centre for Human Rights Education; Cheyenne Stonechild, Dr. Laura Lee, Laura Wright, Elaina Mack, International Institute for Child Rights & Development and more Elders and facilitators to be confirmed!
Various workshops throughout the weekend will include, such as: Circle & Leadership; Crafts (Jewelry, sewing & or other); Essential Oils and Salve Making; Traditional Games; Genealogy; Spray Paint Art; and Child Rights and the Power of your voice...and much much more!
This weekend escape is part of the '4 the Generation Project'. A project led by the International Institute for Child Rights and Development (IICRD), funded by the Vancouver Foundation. The project was created to address a gap which exists very strongly for Indigenous youth-in-care or out of care who also experience a disconnect from their traditional community and aims to help re-establish that link to their heritage and culture.
Young people may reserve their spot at: chey.stonechild@gmail.com or (604) 838-6513
We hope to see you there!
4 the Generation Project Team