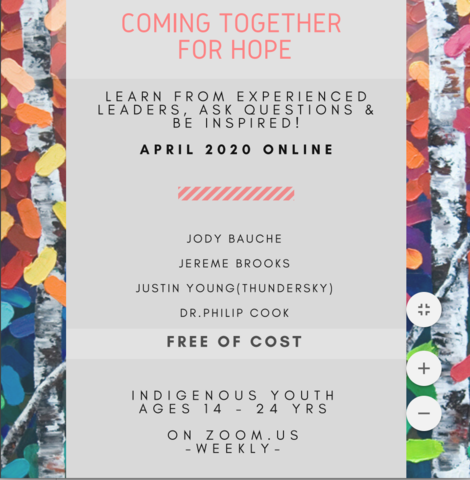 The Surrey Indigenous Youth Advisory Committee (FRAFCA) is collaborating with IICRD to host an online series called "Coming Together For Hope" throughout April 2020. This will consist of individual sessions with inspirational speakers who can share expertise with the upcoming Indigenous leaders in our community. We want to continuously support youth to be grounded leaders in the community, and keep them inspired and motivated through this incredibly difficult time of COVID-19.
This will be offered for free to Indigenous participants (ages 14-24yrs). The session is a weekly, one-hour dialogue on zoom.us with any questions from the participants answered afterward.
DATES:
Wednesday, April 8th, 2020 - Dr. Philip Cook at 1:00 PM - 2:00 PM on zoom.us
Wednesday, April 15th, 2020 - Jereme Brooks at 1:00 PM - 2:00 PM on zoom.us
To Be Announced - Jody Bauche
To Be Announced - Thunder Sky
*Announcements will be on Mondays at 9:00 AM on Facebook:
https://www.facebook.com/FRAFCA/ - OR - by Email from the Coordinator (after signing up).
SIGN UP:
It's easy! All you need to do is send an email to: chey.stonechild@gmail.com with your
1.) Name, 2.) First Nations and 3.) Which Session you want to participate in (or if you want to join every session in April 2020).
I'll send you a confirmation email and a link to join the session on zoom.us (if you sign up for all sessions, a new link/info will be sent every Monday).
*Limit of 25 people per session, to be respectful of the speakers time.