Submitted by

Suzanne Nievaart

on Tue, 12/11/2013 - 6:16am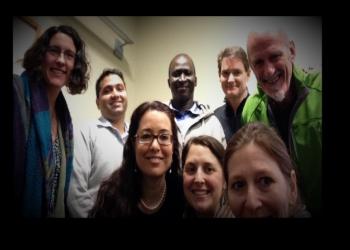 On March 15 and 16, 2014, we offered an introductory course in Strengthening Child Protection in Community: An Evidence-Based Approach to Child Protections Systems.
This weekend workshop was offered at Royal Roads University, during the residency programme for Doctoral Students in Social Sciences. Two doctoral students joined us from abroad, Gehane El Sharkawy from Egypt, and Richard Wamimbi from Uganda. Gehane is currently working with the ILO and Richard works with World Vision East Africa.
Building from IICRD's field experience, we presented five key principles to strengthen child protection systems: lead with children and youth; start from strengths; build partnerships; work from the inside out; and use the power of ideas. Applying a case study from the Child Protection Partnership, participants then explored how to apply these five principles in practice. We look forward to supporting Richard and Gehane along their doctoral journey, and strengthening our partnership with Royal Roads University.
Some of the skills course participants said they learned were: "the importance of play" in order "to make a connection", "listening to the children" and "staying balanced". A few more quotes from our participants of Strengthening Child Protection in Community: An Evidence-Based Approach to Child Protections Systems:
"Getting to know the Circle of Rights approach and applying it to a fictitious case study showed me the potential of understanding complex situations and how they are best approached by leading with children, starting from strengths, and engaging with partners."
"Things are not what they seem, conclusions cannot be made until you have listened to and understood the perspective of the child."
"Thanks for making me feel at home, with a sense of belonging".
A quote from IICRD associate Micheal Montgomery, who co-facilitated the course at Royal Roads University in March:
"Facilitation to me feels like a gift, to enter into other people's universe, into their social space…a coming together of individuals into a group process... as soon as I feel the rope of the Unity Circle, and I feel the energy that exists for the group, but also for each individual, I really start to connect to the fact that we are all basically the same. We all come with something, we all want to do the best that we can...I think we created a sense of purpose, a sense of "How do we use our experience in a passionate but focused way, to improve not only our lives, but the lives of people that we touch?"
For more on this experience, watch an interview with Micheal Montgomery about his experience facilitating the course.
The Next CPID course on Creative Approaches will be held at Royal Roads University May 24-27, 2014.