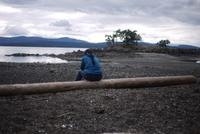 Friday, June 1, 2018 - 4:00pm

to

Monday, June 4, 2018 - 1:00pm
June is an ideal time to get outside, reflect on the past year, and reset for another year. The Journey course will support you to develop new insights and tools in a beautiful National park camp site beside the ocean on Coast Salish, Tsawout territory, on Pender Island, BC.
> STARTS Friday June 1st at 10am (Welcome to arrive after 5pm
Thursday May 31st to set up, and join us informally fireside 8pm)
> ENDS Monday June 4th at 1pm
> Cost is $600, including meals, tent site & course materials.
> You'll need your own tent, sleeping bag / pad, and dishes
but get in touch if this is a barrier.
For More Details - See the downloadable file "IICRD Journey 2018 - Overview" (below)
Information to Download

IICRD Journey 2018 - Overview.pdf